2019 National Survey of Venezuelan Hospitals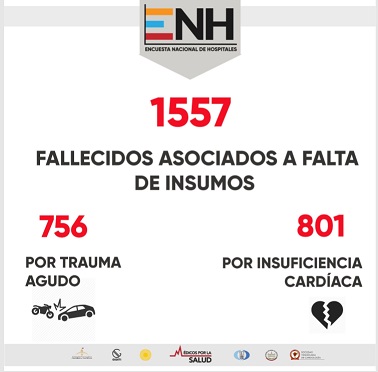 Médicos por la Salud (Doctors for Health) was founded in 2014 as a network for doctors throughout Venezuela with the mission of collecting data to document the national humanitarian and health crisis.
This network, comprised of doctors, medical students and healthcare providers, sheds light on the devastating condition of hospitals all over the country. Medicos por la Salud has been vocal about the health crisis in Venezuela despite threats of censorship and intimidation from the government.
Medicos por la Salud's flagship report is an annual survey of hospitals throughout the country. The 2019 Survey​ is the 6th edition of this report.​
Today, due to government corruption and lack of oversight, there are no national statistics documenting Venezuela's health crisis. The National Survey of Venezuelan Hospitals is one of the primary reliable and reputable sources documenting hospital conditions at the national level. This survey is used by the United Nations, Human Rights Watch and others.
The 2019 survey presents these alarming statistics:
1557 deaths due to scarcity of basic medical supplies.
79 deaths due to energy blackouts and lack of electricity.
You can read the full report here.